Antelope Audio's Zen Tour, Orion Studio and Goliath Turn the Page on Traditional
FX Plug-Ins, with Superior Built-In FPGA Vintage Product Emulations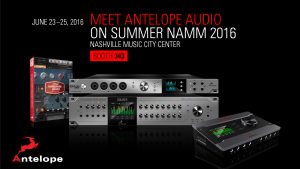 Nashville, June 22, 2016 – Leading pro audio gear manufacturer Antelope Audio will be showcasing its innovative Thunderbolt™ interfaces at Summer NAMM, June 23 to 25 at Nashville's Music City Center, booth 343. These interfaces, including Zen Tour, Orion Studio and Goliath, each feature a powerful integrated FPGA engine that drives several on-board vintage amplifier and hardware-powered simulations. Antelope Audio's Marcel James, Director of Sales for the U.S., will be on hand to demonstrate the interfaces, which are ideal for guitarists.
Also present will be guitarist Todd Lombardo, who demonstrate Antelope's new digital simulations while performing at the booth. Lombardo's credits include studio performances with Lady Antebellum, Zac Brown Band, J.D. Souther and many others.
Antelope Audio's FPGA modeling engine technology allows users to process their audio with the speed and musicality of real hardware, while leveraging the speed and routing flexibility of digital effects.
"Until now, Guitarists have been vastly underserved with other guitar-based simulations on the market," commented Marcel James. "With Orion Studio, and the imminent launch of Zen Tour and Goliath, Antelope is delivering the tonal flexibility and sonic authenticity that guitarists deserve. We are anxious to recruit an entirely new user base of guitarists at this year's Summer NAMM."
In addition to regularly schedule demos of its Thunderbolt™ interfaces, the Antelope booth will once again feature guest appearances by VIP musicians and engineers, to be announced on the first day of the show. Following Summer NAMM, Antelope will also offer special discounts to its dealer community on select products. Dealers should contact their local sales representatives for more details.

– more –

WHO: Antelope Audio, Booth 343
WHAT: Summer NAMM
WHERE Nashville's Music City Center, 700 Korean Veterans Blvd, Nashville, TN
WHEN: Thursday, June 23rd to Saturday, June 25th, 10:00 a.m. to 6:00 p.m. (except Saturday, Until 4:00 p.m.)
# # #
All brands and trade names are the property of their respective owners.