Matthew Sim is a New York-based mixing engineer & music producer from Hong Kong. Besides working as a freelance mixing engineer/producer, he is currently a staff engineer at the legendary Germano Studios NY. He has already worked with (Mixed, Engineered or Assisted) a long list of award-winning artists, including Desiigner, Pusha T, Usher, Frank Ocean, J Cole, Bon Jovi, Kai, Jennifer Lopez, Pentatonix, Lewis Hamilton, Craig David, Elle King, Post Malone, Theo Croker, YG, Timeflies, Lauryn Hill, Steve Jordan, Mike Posner, Keith Richards, The Kin, Malay Ho etc…
I have been using Antelope interfaces for over 4 years and am thoroughly impressed by the quality of the converters and the flexibility of usage.
Orion 32
My first Antelope purchase was the Orion 32, back in 2012. I used the Orion with my Dangerous summing box and a couple of other outboard compressors as hardware inserts. We have all experienced the interface that is like a laptop taser gun when you plug it in. The Orion has never crashed my Hackintosh when I connect it via USB 2.0 to use with Pro Tools. It is incredibly stable, quiet and compact. Utilizing its incredibly flexible internal patch bay, I stored 3 distinct presets for different mixing scenarios, which is really all I need. DSP plugins are not required with the Orion, simply plug it in, check the digital clock and you are ready to go. Some of the notable mixes I did with Orion 32, were the entire Theo Croker's "Dvrkfunk" EP & "Escape Velocity" album.
Zen Studio
Sometimes the job of an audio engineer requires me to take on responsibilities outside mixing. I acquired the Zen Studio in 2014 to replace my previous mobile recording rig that contained 2 different interfaces with 12 preamps in total. My old setup was bulky and heavy. I had to wheel a 4U rack case, in addition to microphones, cables and accessories, to be able to record outside a studio. Zen Studio put an end to all the hassle, collapsing 12 preamps into less than a 1U size, making it small enough to fit cables and interface right in my backpack! Hands free! On top of that, it also has 4 DI inputs, which is just so convenient for recording your standard rhythm section – bass, guitars and keyboard – and leaves you with another 8 mic preamps for multi-track drums and vocals! Zen Studio makes a wonderful mobile rig that covers all of my audio-related gigs. For example, I can have it with me in the morning for some mixing/editing with headphone and speakers. Later, I can bring it with me to the studio to record/overdub some instruments and synths for a writing session. Then I can use the Zen Studio as a 2nd rig in the studio using the D sub line in/out for printing stems or sending it out to the console for analog summing etc. Lastly, late at night, I can go to a live venue and multi track a live performance from the FOH console easily. Zen Studio has really brought convenience into my day-to-day without noticeably compromising on audio quality.
Zen Tour
When the Zen Tour was launched, I knew I had to get it! It's even smaller than the Zen Studio and includes some really thoughtful new features including USB and thunderbolt ports, 2 monitors outputs and 2 reamp outputs. Frankly, if I could keep only one interface with me, it would definitely be the Zen Tour. The USB & Thunderbolt ports really makes it so easy to work in any set up. I frequently switch between my old desktop at my apartment that has no thunderbolt and my Macbook Pro that allows me to benefit from the stability and minimized latency of the thunderbolt connection. The 2 monitor outputs and 2 headphone outputs eliminate the need for an extra monitor selector hardware.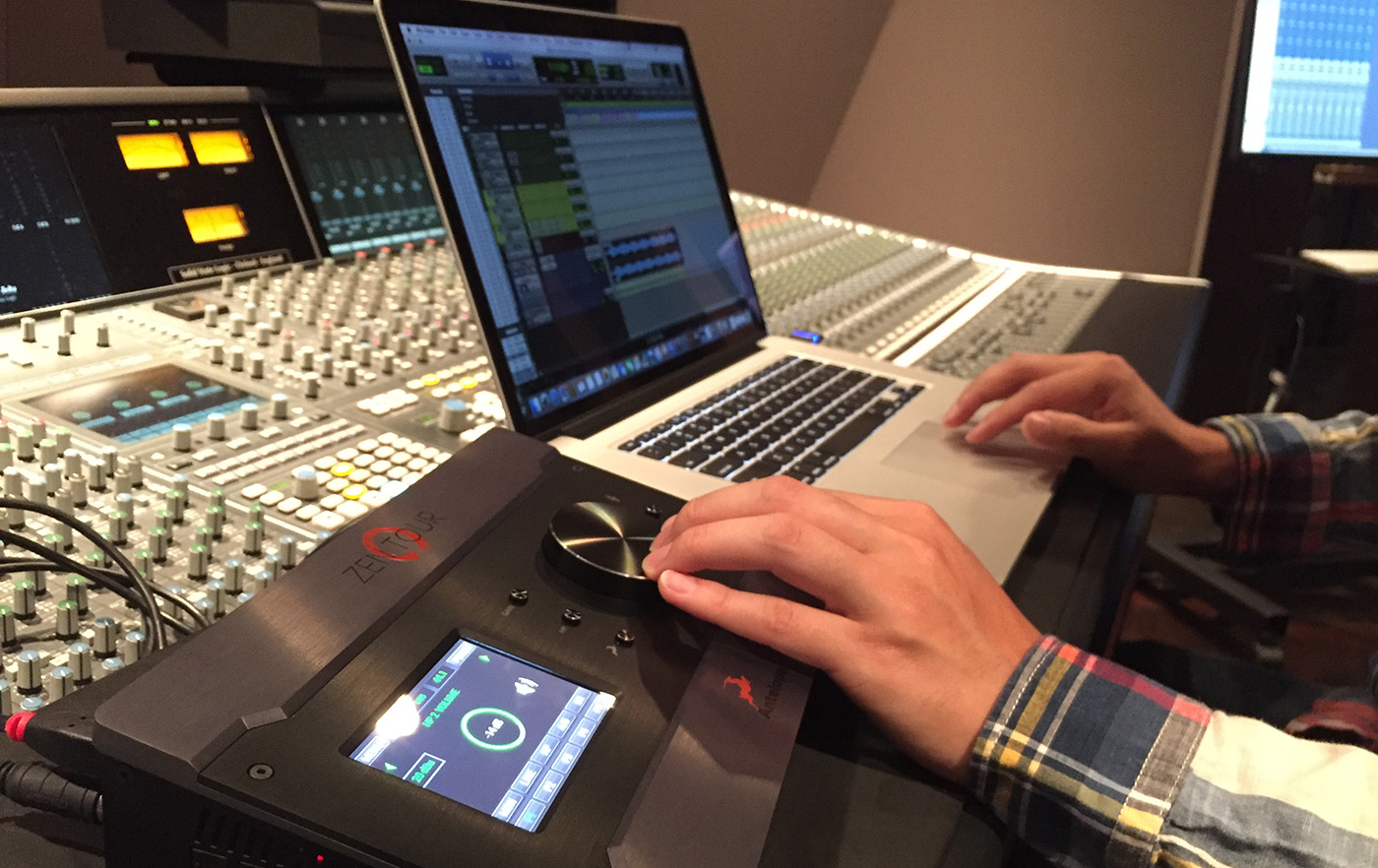 Lastly, the 2 reamp outputs make working with modern day productions so much more efficient. If you want to send some of your tracks to an guitar/bass amplifier you don't need an extra reamp box anymore.  The Zen Tour opens up creative possibilities that you cannot find in any similar product. It is just perfect for modern-day productions, with more than enough preamps for all your drum machines, synths, instruments and vocals, on board FPGA plugins, flexible patchbay and all kinds of I/O options. Plus, it stands out in a room full of gear with it's Sci-Fi-ish touch screen and brushed metallic case! With no compromise on audio quality and all the features I can imagine in a cool little box, the Zen Tour is certainly my dream workhorse!