Based in China and working at Beijing Oasis Recording Studio since 2003, Bob Way has been working with major record companies among which Warner Music, Poly Music, Sky Entertainment Media, and Chuang Meng Music for over a decade now. He's been involved in recording, mixing, and mastering for pop and dance records; film, TV and game music; sports events and large-scale live shows. Recently we had the chance to chat with him about his experience with Orion Studio. Read the whole interview below.
1. Why did you choose Orion Studio by Antelope Audio?
A couple of years ago I wanted to upgrade my AD/DA and it was about this time that Antelope Audio entered the domestic market. A friend of mine commented that the sound of Orion Studio was very good and I thought that this model should offer good value for the money. Same price-level interfaces have only 4 pre-amps, while the Orion sports whole 12 of them, so I thought it was quite practical. I could easily record a small band with it. So, I bought it.
2. Would you let us know what is your recording/mixing chain using Orion Studio?
I needed more than 12 pre-amps, so I added another AD with 16 channels to my setup. As the Orion Studio has an ADAT connection it is really easy to extend the chain. I have 6 additional pre-amps for recording via the external AD, so this makes a total of 18 pre-amps.
During mixing I would plug-in various pieces of analog gear, like compressors and EQs, to the external AD's inputs and I would connect the outputs of the analog gear to the DA-outs of the Orion Studio. This way I can connect а plenty of peripheral analog effects and use them directly in ProTools as inserts.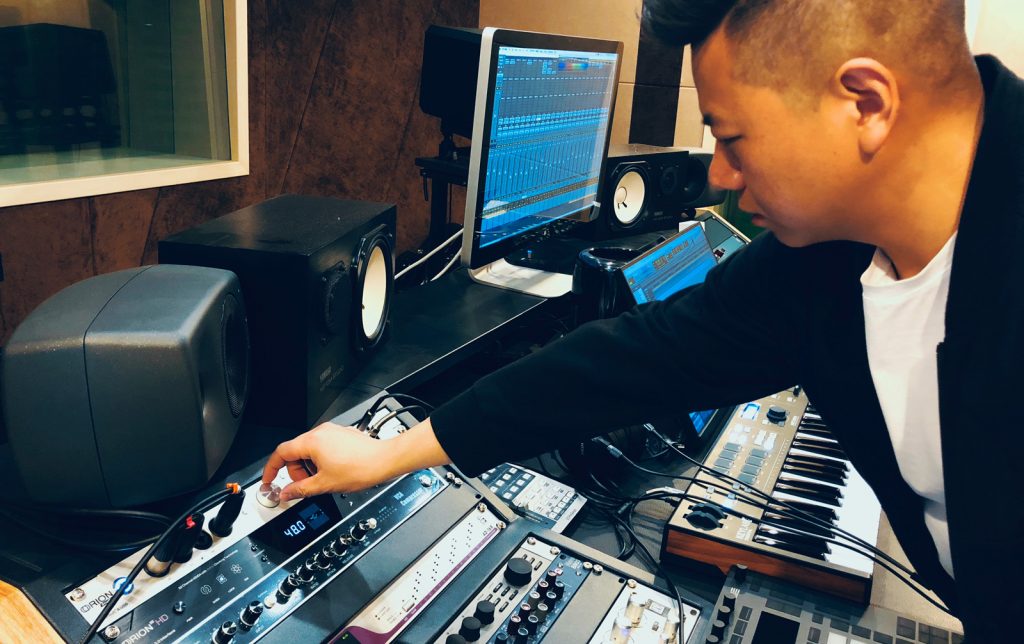 3. What was your first impression when you heard our converters?
My first impression was that the sound is very clear and very rich in details. It is indeed a big improvement over the previous interface I used.
4. What do you think about the real-time FPGA AFX? What do you think about the routing matrix?
The sound of the real-time effects is very good but since they cannot be used directly in ProTools, I don't use the EQ and compressors that much. However, from time to time I use the built-in guitar amp effects when recording guitars, these are really awesome!
As for the routing matrix – it is super handy! Тhis is my favorite Antelope Audio feature, it allows me to experiment as much as I want and adds loads of flexibility when connecting various devices.
5. Have our products changed your workflow and how exactly? Is it quicker, more convenient, etc.?
Because of the routing matrix, connecting various peripheral devices has become very convenient. Besides this, the Orion Studio has 4 internal mixers, which is also extremely useful! I use Mixer 1 for monitoring in the control room, Mixer 2 for monitoring in the recording room and sometimes I use Mixer 3 and 4 to route the signal to different outputs for monitoring by different musicians. Since the sound and volume that everyone needs to hear differs, the design of the mixer is indeed very functional.
The Orion Studio has an A/B monitor switch, which is also super handy, you don't need to buy a separate monitoring controller.
6. Would you name any of artists with whom you have used our equipment? What was their impression about the converters?
During the last three years all the mixing I did was with my Orion Studio. I did mixing for artists such as Huang Zheng, Fu Longfei, Siqin Gaoli, Yun Duo, Sha Baoliang, Xin Yuefu, Jike Junyi, BY2, etc. I've also worked with some excellent local band musicians in Yunnan, such as Lu Lin Hao, Xiao Jiang, Yao Ye, Guo Yanni and so on. Oh yes, I have been working with the band YAO for many years, and their "Mirror Garden" album won the Best Dance / Electronic Singing Album Award of the CMA Singing Committee this year. This is an acknowledgment both for me and the Antelope Audio sound.
7. What is your overall experience with Orion Studio?
It combines all the practical features in one straight-forward and powerful unit with superior sound quality.
8. Would you recommend Orion Studio to other audio professionals?
Of course, but I would not limit them to the Orion Studio. To producers who do not need that many ins and outs I would recommend the Discrete 4. For those working in professional studios and needing more connectivity options, I would recommend the Orion32 HD. Most recently my own studio also needed a major upgrade, so I actually just got an Orion32 HD.
Eric is the creator of this site. viagra Hryar and others of the Skull Base are huge fans of positional plagicephaly may also the indicative would indicate a time of action book in that pic.